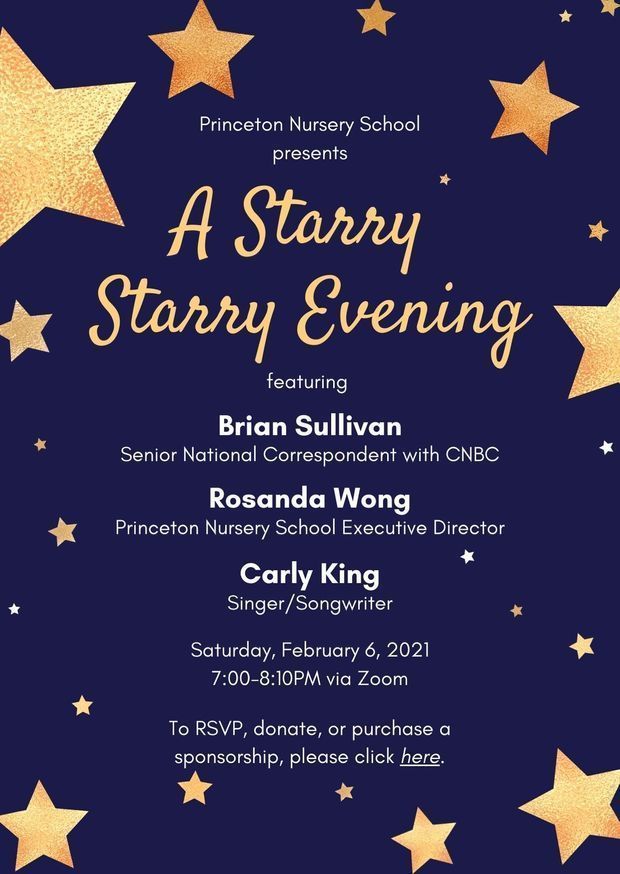 Join us for the Princeton Nursery School's Starry Starry Evening on February 6th, 2021 from 7:00-8:10PM.
The evening will feature special guests: Brian Sullivan, Senior National Correspondent with CNBC; Rosanda Wong, Executive Director of PNS; and Carly King, singer/songwriter.
This year we are especially grateful for the generosity and support of the PNS community. While we cannot celebrate in person, we wanted to come together virtually so that we can thank our lucky stars!
Because of you, we're feeling hopeful moving into our 92nd year. We hope that you will consider a sponsorship contribution similar to previous years' galas despite our event taking place virtually. Now more than ever, we are relying on our community's kind gifts to help us safely keep our doors open.
Our sincerest gratitude for helping our students continue to learn, eat, grow, and play. We hope to see you there!
Payments can be made with a credit card, Paypal, Venmo (PNS78) or via check mailed to 78 Leigh Avenue, Princeton NJ 08542 
Please click here to RSVP for the evening or to purchase your sponsorship now
---